We focus our charitable giving on education and literacy projects around the world, whilst encouraging our employees to play an active part in their local communities.
In 2005 we donated more than £3.3m in cash donations - boosted by our one-off contributions to disaster relief efforts - and gave additional in-kind support such as employees' time, advertising space, publishing expertise and book donations. In 2004, our total cash and in-kind support was £5.91m, as reported in the Giving List in The Guardian newspaper in November 2005. This equates to 1.4% of our pre-tax profit. 2005 numbers for cash and in-kind support will be reported later this year.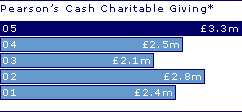 * Note: 2004 and 2005 numbers includes our relief funds

* Note: Per Cent Club submissions as reported in The Guardian's Giving List. 2005 numbers to be reported later this year.
In 2005, we continued to support and encourage our employees to play a part in their local communities, providing them with time, money, and Pearson products where appropriate. In fact, Pearson Education was named Outstanding Corporation of the Year by the Association of Fund Raising Professionals in the US, in their annual Awards for Philanthropy.
Via the Pearson Foundation in the US and via the efforts of our employees around the world, we provide ongoing financial and operational support to educational programmes that serve students, teachers, schools, and education-focused community organisations around the globe.
Disaster relief
We set up relief funds to collect Pearson and employee donations in response to the South Asian tsunami, the earthquake in Pakistan and India, the London bombings and the hurricanes along the US Gulf Coast. Together, these relief funds raised more than £1.04m ($1.8m) for those affected.
In response to Hurricanes Katrina and Rita, Pearson people at our 20 locations across the United States initiated their own grassroots efforts to help - shipping food, clothing and supplies; organising fundraisers of all types; volunteering, and opening their homes to evacuees. Our businesses used their resources to assist in many ways:
Pearson Government Solutions helped with staffing American Red Cross phone banks and donated meals to hundreds of volunteers in northern Virginia. We helped the Department of Health and Human Services to make contact with medical professionals volunteering to help, and provided hotlines for the Center for Diseases Control and Prevention.


The Pearson School Systems teams worked with school districts to retrieve data and get their business operations back online. Our Pearson School and Higher Education text book publishers immediately sent books to schools and colleges, and Penguin provided more than 20,000 children's books which were distributed as part of our 'Family Book Night' programme in shelters and schools.


In Mississippi and Texas, we equipped and staffed mobile classrooms with computers and digital curriculum materials. We also provided Penguin books for the affected children to take with them to their shelters or temporary homes. The Penguin Book Giveaway for Teachers proved especially popular, since the new books were the only educational resources available to the affected teachers.


Following the terrorist bomb attacks in London in July, Pearson set up a memorial fund with Birkbeck College, part of the University of London, to remember Benedetta Ciaccia who was tragically killed. Benedetta had worked at Pearson since 1999 and had just completed an IT foundation degree at Birkbeck College. The memorial fund aims to help talented IT students who have limited financial means. Pearson made an initial contribution to the fund and matched all employee donations, raising a total of £34,000.
Matched funding
We match employee fundraising around the world. In the UK, we run a payroll giving scheme which enables employees to make tax-free donations to their favourite charities, which we match up to £500 a year. Each year, we invite employees to apply for our Pearson Community Awards which recognise employees' commitment to local communities. In 2004 we awarded prizes to employees in the US, UK, Spain, Colombia and Australia.
Supporting local programmes
In 2004, we launched a three year programme with Book Aid International, to encourage reading in East Africa through a series of mobile reading tents. Together with the East African Book Development Association, the programme sends touring tents to remote areas in Uganda, Kenya and Tanzania, where schools lack access to local libraries. In 2005 we donated 24,000 books to the programme and gave a grant for the purchase of locally published books. We also funded training sessions for local employees to strengthen the impact of the reading tents. We share Book Aid's vision and like their approach to finding a sustainable solution by working with local schools, libraries and local publishing organisations. We will extend this relationship in 2006, to ensure that schools taking part in the reading tents project will each have a permanent collection of books - in effect, a library of their own.
The Pearson Foundation
Throughout the year, the Pearson Foundation - the US-based philanthropic arm of Pearson plc - works with leading businesses and civic organisations to support students and teachers in the classroom and to sponsor community-based education programmes around the world.
These public and private alliances included the following ongoing partnerships:
Bridgeit

, with whom we make use of mobile phones and satellite technology to deliver digital educational content to teachers and students who otherwise lack access to these resources. The programme expanded in 2005 to provide videos supplied by Pearson Digital Learning's KnowledgeBox to 210 schools in the Philippines. As a result, more than 60,000 elementary school children across the Philippines can now explore this customised library of timely educational material linked directly to the Philippine National Curriculum.



The Jordan Education Initiative

, with whom we have developed a comprehensive digital high school curriculum for English language learning, together with the US Government's Middle East Partnership Initiative (MEPI) and the Cisco Learning Institute. In 2005, Jordanian teachers were introduced to Jordan English Interactive, which is based on our Longman English Interactive programme. Students across Jordan will begin using the programme in 2006.



Jumpstart

, with whom we encourage talented college graduates to become pre-school teachers in under-served areas across the US. Throughout 2005, Pearson and Jumpstart have trained and launched the careers of more than 100 Teacher Fellows in 20 states. We expect to welcome an additional 40 Fellows in spring 2006. Fellows receive a stipend, intensive training, mentoring from a Pearson professional, and the resources needed for school success and professional development. In addition, over 1,500 of our employees in 17 US states have offered their support to Jumpstart by adopting and supporting local pre-schools; reading to children and helping their parents understand the importance of children's literacy; raising funds; and offering business skills and support services to Jumpstart's national offices.



Make A Connection Through Art

and

The Mobile Learning Institute

, two programmes that deliver arts and curriculum support to teachers and students in the US. In 2005, we again participated in Nokia's Make A Connection Through Art programme, which gives middle school students the opportunity to work directly with professional artists in the classroom. We again worked with Nokia to launch the Mobile Learning Institute, which delivers week-long digital arts residencies to middle school and high school classrooms, as well as corresponding summer programmes for teachers and students. More than 5,000 students took part in 2005 - a number we expect will double in the year ahead.


In addition, the Pearson Foundation continued to supply publishing and operational support to a number of youth-focused non-profit organisations, including The Intel Computer Clubhouse, The International Youth Foundation and The National Academy Foundation. For further information, please see www.pearsonfoundation.org
Further worldwide community involvement
UK
Last year, the FT donated advertising worth £530,000 to support a variety of charities and causes. The FT's UK edition has been donating advertising space to the UK's largest homeless charity, Crisis, for the past ten years. In 2005, the Crisis Christmas Challenge, which encourages corporates to donate their Christmas card budget to the charity, raised more than £785,000 - the most raised in its ten year history.
The Financial Times operates an employee reading and mentoring scheme in London, in conjunction with Community Service Volunteers. Employees either act as a mentor to the children or help develop their reading skills at one of five schools local to the FT's head office in London. The scheme is growing, with more employees involved each year.
Asia
Throughout 2005, Pearson helped Book Aid to distribute books and education materials to the 52 community libraries in Sri Lanka that were damaged or destroyed as a result of the tsunami in December 2004. Pearson donated 15,000 Longman, Ladybird, Puffin and DK books to help restock the libraries. We also made a local purchase grant to enable Sri Lanka's National Library Service and Documentation Board to buy locally produced titles written in Sinhala and Tamil.
Pearson launched an appeal fund to support relief efforts in Pakistan, following the earthquake in November 2005. The fund, which raised over £130,000, will go towards educational and relief projects in the affected areas.
The FT continues to develop its popular financial journalism training programme in China, which now includes Beijing University and Fudan University. The masterclass programme invites applications from experienced Chinese business journalists, who want to learn more about financial and economic reporting, feature writing, international trade and journalist ethics. The programme reflects the FT's belief that high-quality, independent news, comment and analysis is essential to the continued expansion of China's economy.
For 2006, the Financial Times has committed to support Room to Read, a school construction programme in Laos, Nepal, Sri Lanka and Vietnam. Money raised by the FT and their donations has meant that 24 villages in Laos and Vietnam will have new schools, 31 villages across Asia will have bi-lingual reading rooms and 16,000 children in poverty stricken rural villages will have access to new educational facilities.
Australia
Our publishing businesses in Australia have adopted The Smith Family Learning for Life Program, which provides financial assistance towards the educational needs of disadvantaged children. Over £10,500 was raised by employee activities and company donations in 2005.
South Africa
Pearson continues its support for disadvantaged students at Cape Town University (UCT), by sponsoring annual bursaries for undergraduates in business courses, and the Chair of Economics Journalism at Rhodes University.
We raised money for the Orlando Children's Home in Soweto. Pearson and Penguin donated more than £6,700 to the orphanage, which gives children, from abandoned babies to teenagers, the best chance to develop and make a difference in the world.